With the magnificent cherry blossoms of spring behind us and the promise of meadow after meadow of wildflowers unfolding before us, there's never been a better time to plan your getaways to the Columbia River Gorge.  There are many great things to do in Hood River and the surrounding area, and our cabins are the perfect place to launch your adventure.
The charming town of Hood River is the perfect location for a weekend trip. It's only an hour outside of Portland and close to other major metropolitan areas in Washington like Olympia and Seattle. Within a few hours, you can be embracing the lush, northwest wilderness at our magnificent cabins in Washington, ready for a few days of fun adventure and blissful relaxation.
There are plenty of things to do in Hood River to keep you as busy as you want to be, too. From dining out at great restaurants and visiting local wineries or breweries to exploring the vast outdoor wilderness at the Columbia River Gorge, you'll certainly never be bored. As you get ready to explore all of the great things to do in Hood River, make sure you stay in the most comfortable accommodations possible: Our luxury cabins in Washington! Book your getaway today.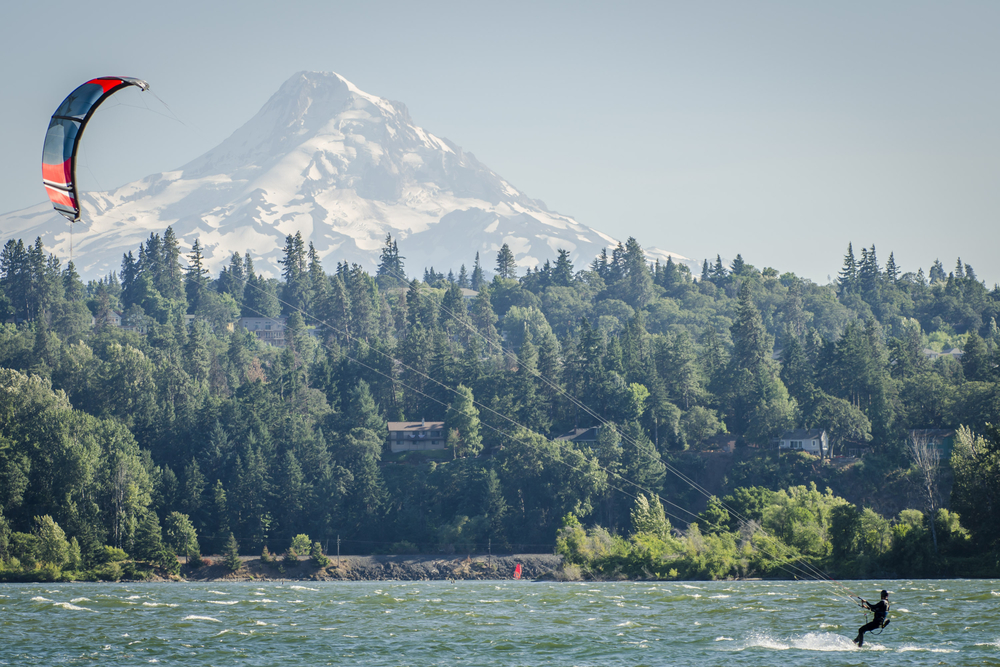 The Best Things to do in Hood River
If you've been couped up at home this winter and spring, this summer presents the perfect opportunity to get out and explore all of the best things to do in Hood River. Hood River truly does offer the best of both worlds. During the day, it's all about getting outside and enjoying our pristine natural surroundings. As the sun sets, it's time to unwind and relax.
Hood River offers something for everyone!  Exceptional restaurants, great wineries and breweries, a charming downtown filled with shops, the Columbia River for watersports (like kitesurfing!), and plenty of opportunities for hiking, biking, and more in the surrounding Gorge. Whatever you're looking for in a getaway, we're sure you can find it here. Below, you'll find eight of our favorite things to do in Hood River.
Hood River is a hiking and biking paradise – and hitting the trails is one of the most popular things to do in Hood River. There are more than 30 trails within the surrounding area. We'd love to suggest a few of our favorite trails to you during your stay!
Hood River is a veritable kitesurfing mecca, so it makes sense that one of our favorite things to do in Hood River each summer involves kitesurfing.  Whether you want to get out on the water and try it yourself with a local company like Cascade Kiteboarding, or if you just want to sit by the river and watch, it's an enjoyable part of being in town during the summer.
Kitesurfing may be asking a bit too much from you this summer, but how about kayaking and paddleboarding?  Head to the Gorge Paddling Center or Hood River SUP and Kayak, and they can help you get everything needed for a fun and relaxing day on the water.
If you've never been to the Columbia River Gorge, then one day-trip destination you must consider while visiting Hood River is Multnomah Falls. It's one of the most visited waterfalls in the Northwest and is just 30 minutes outside of Hood River.
Beer is a central part of the culture in Oregon, and it's no different in Hood River. There are several great Hood River Breweries worth visiting while in town, including pFriem Family Brewers, Double Mountain Brewery, Full Sail Brewing, and Ferment Brewing Company.
If wine is more your scene than beer, you're in luck!  There are also some sensational Hood River Wineries worth checking out while in town. Here's a list of some of our favorites.
Summer is a wonderful time to visit the farms found on the Hood River Fruit Loop Trail, where you'll discover farmstand after farmstand filled with delicious fresh produce. Driving this scenic 35-mile loop through the surrounding farmlands is one of our favorite things to do in Hood River.
Thanks to all of the hard-working farmers in our area, there are some great restaurants in Hood River and even across the river and closer to us in Stevenson. Many of these restaurants feature farm-fresh produce, which translates to hyper-seasonal menus and a delicious culinary adventure.
Stay at the Best Cabins in Washington
With so many great things to do in Hood River, you can be assured of a memorable getaway. That is especially true when you stay with us in our luxurious cabins in Washington.  The Carson Ridge Luxury Cabins are surrounded by unprecedented natural beauty, offering a welcoming sanctuary for couples looking for uninterrupted time together.
Our delightful cabins in Washington are appointed with a range of excellent amenities, including custom-made queen or king-size beds, comfortable seating, in-cabin welcome snack baskets, cozy cotton robes, and much more. In-cabin jetted tubs provide the perfect place to relieve your stress, especially when combined with our lavender-scented Dead Sea Bath Salts! In the evenings, relax by one of our two fire pits, sip wine from your comfortable porch, and otherwise enjoy our beautiful and tranquil property. We also offer massage services on-site, in the privacy of your cabin that for that added touch of indulgence throughout your stay.
More importantly, our romantic cabins in Washington offer an excellent place to relax, unplug, and escape the everyday stressors we all face. Even if all you come here for is to relax on our beautiful property, we know you'll leave feeling well-rested and ready for anything. Leave the world behind for a few days, and book one of our unbeatable cabins in Washington.