Although the sun is still beaming with summer energy, it's time to map out the trails to catch those stunning changing colors! Fall foliage in the Gorge explodes each autumn with a dazzling array of red, oranges and yellows. Take some time during this transitional season to immerse yourself in the beauty of the Gorge. Let's explore four trails that will lead you to awesome views, past stunning waterfalls, and through colorful trees.
Lewis River Falls
Located in the Gifford Pinchot National Forest, the Lewis River Trail features four striking waterfalls along a 14-mile long trail. Due to the popularity of this hike, the Forest Service now requires a reserved parking ticket and Forest Pass for the Lewis River Recreation Area. Gaze upon the warm-toned leaves as you conquer the mostly flat riverside trail. The Lower Lewis River Falls are a surprisingly large cascade, spanning 43 feet high and 200 feet wide. Continue upstream to explore the other glorious falls along the trail, or turn around here for a shorter hike.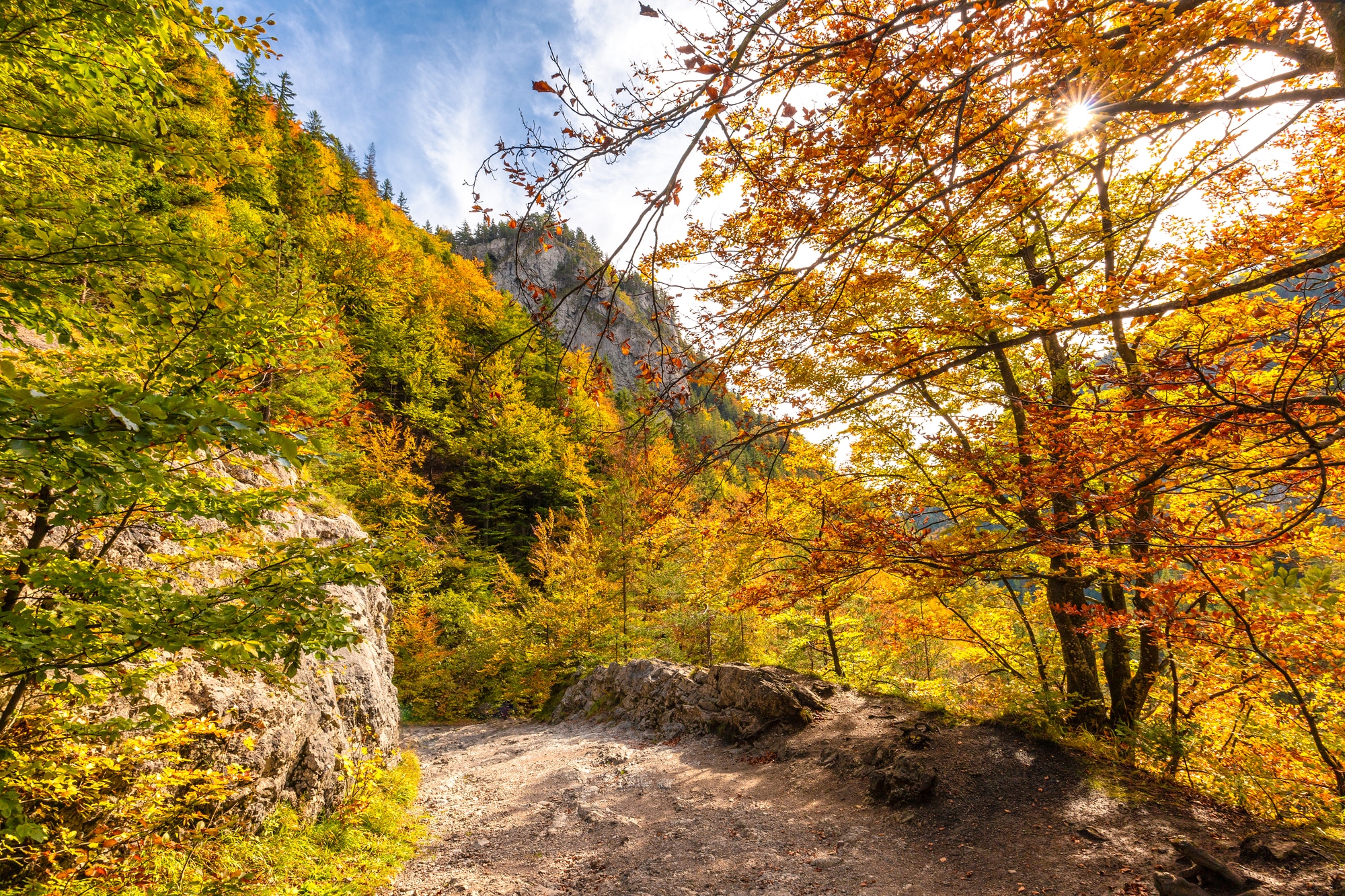 Hamilton Mountain
Hamilton Mountain and Rodney Falls is an 8.1-mile popular loop trail rated as difficult. A perfect autumn excursion, the Hamilton Mountain trail leads hikers past the stunning Rodney Falls to a jaw-dropping view of the fall foliage for miles in the distance. The trek becomes quite steep at times, with an overall elevation gain of 2,286 feet. Bring your Discover Pass, and arrive early on the weekends as the parking lot tends to fill up.
Panther Creek Falls
Also located within the Gifford Pinchot National Forest, the Panther Creek Falls Trail 137 leads to a glorious 50 to 70 foot tall waterfall. Panther Creek Falls features two tiers of segmented waterfalls that appear at the end of a 0.3-mile out-and-back trail. October is the best time to complete this short hike to see the beautiful autumn colors around the falls.
Mark O. Hatfield Trail
Located east of Hood River, the scenic Mark O. Hatfield Trail winds along the jaw-dropping Columbia River Gorge. This section of the Historic Columbia River Highway State Trail is car-free, which makes it the perfect destination for cycling enthusiasts. Follow the 10-mile round trip, family-friendly trail through the Mosier Twin Tunnels and back for the ultimate Gorge experience.
Carson Ridge Luxury Cabins is the ultimate lavish lodging after a long day admiring fall foliage. Located in Carson, WA near the Columbia River Gorge, Carson Ridge offers unmatched levels of relaxation in private, luxurious cabins. Wake each morning to a delicious gourmet breakfast, and rest each night in your overwhelmingly comfortable bed. Explore our seasonal specials to add even more relaxation to your trip!