As we slowly wrap our heads around the chilly (but beautiful) winter season that is coming, it's the perfect season to start planning your romantic getaways in Washington State. It just so happens that our exceptionally romantic cabins in the Columbia River Gorge are the ideal place to spend these romantic getaways in Washington State, too. Whether you've been here before or not, it won't take long to feel the difference this stunning wooded retreat can make in your year.
We love everything about winter in the Columbia Gorge. The busy summer crowds are gone, yet the same exquisite natural beauty and tranquility remain. In fact, the stark landscapes of winter and the chilly weather which serve as the perfect excuse to curl up with our loved ones might make winter that much better! Whatever winter means to you, our romantic cabins in Washington are your home base for all of it.
There are many reasons our luxury cabins are considered one of the most romantic getaways in Washington State – but for most people, the actual experience is far better than anything we could say here. Major metropolitan areas aren't too far away, either, meaning it's easier than ever to escape to our blissful luxury Columbia Gorge cabins. If you're ready for the best getaway of the season, it's time to book your room at one of the most romantic getaways in Washington State!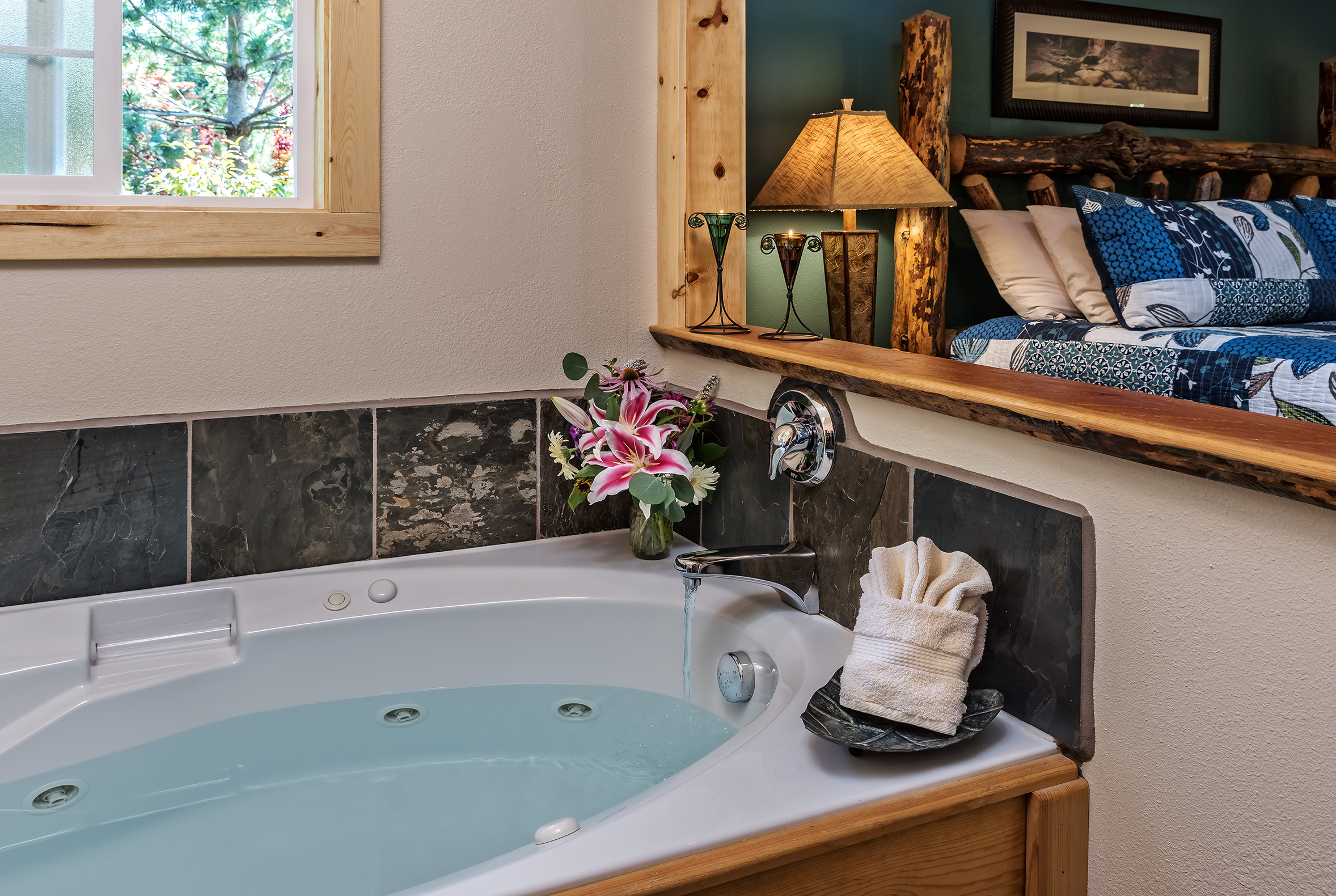 Winter is For Romantic Getaways in Washington State
Winter is a notoriously slower time of year for travel unless, of course, you're into snowsports, of which there are plenty in the Columbia Gorge! However, the slower pace of winter is what makes it such a wonderful time of year for romantic getaways in Washington State. Chilly temperatures outside serve up the perfect excuse to seek out creature comforts inside, like a cozy fire and your favorite person. There's not much better than cozy, romantic one-on-one time, and there's nowhere better to enjoy than Washington State's most luxurious and romantic cabins.
Many of the guests we see each winter for romantic getaways in Washington State are coming from nearby metropolitan areas like Portland and Seattle.  Some come from closer by and are seeking out romantic staycations, and still, others come from far away places to experience the otherworldly beauty of the Columbia River Gorge in the winter.
Wherever our guests come from, they hold one thing in common: They are looking for a beautiful place to rest their minds and spirits and enjoy the tranquil paradise that is our Inn. There's truly no better place for romantic getaways in Washington State. We offer guests so much more than a beautiful place to enjoy cozy and romantic cabin getaways, though.
Our romantic cabins in Washington are situated on gorgeous, wooded acreage, not too far from the popular town of Hood River, right in the heart of the scenic Columbia River Gorge. You'll feel miles away from the busy chaos of Portland and other metro areas, and instead, you'll feel as though you have the entire world to yourselves. This is, after all, the best part of a romantic couples getaway!
Spend your romantic getaways in Washington State in one of our ten well-appointed luxury cabins, each perfect suited for couples' getaways. Relax, indulge, and pamper yourselves in our beautiful and spacious cabins, which include a variety of high-end amenities to satisfy your every need and want during your stay. 
We'll serve you a delicious and fresh breakfast each morning of your stay to add to that feeling of being pampered and indulgent. We change our menu with the seasons and alternate frequently between sweet and savory entreés, but no matter what is on the menu, you'll leave our table full and satisfied – and eager for breakfast the next day! Truly, there's no detail left untended, so all you have to do is get here to enjoy romantic getaways in Washington State.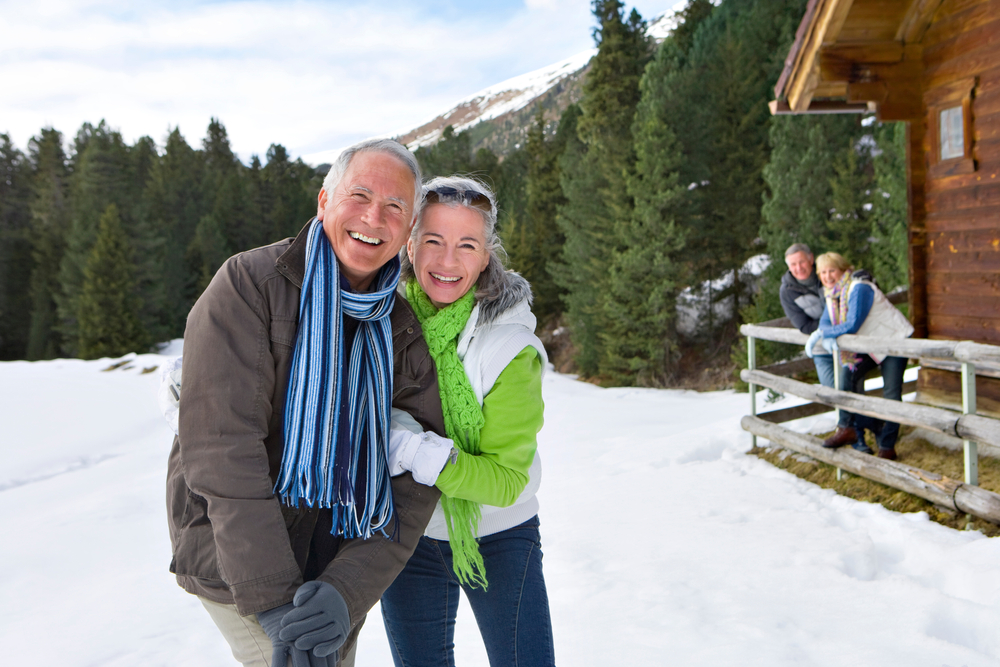 Get Romantic This Winter in the Gorge
You're welcome to hide away in the cozy comfort of our guest rooms throughout your romantic getaways in Washington State – we've designed them to be perfect for exactly this. But, if and when you do want to do a little something else, you'll find plenty of things to do in the nearby areas.
If you and your sweetheart enjoy getting outside for some adventure, consider taking one of the amazing

Columbia Gorge Hikes

nearby. We've taken most of them and would be more than happy to recommend a trail for you. When there's a blanket of snow on the ground, these same trails are perfect for a romantic afternoon snowshoe!

Head to nearby Hood River and visit one of the many

Hood River wineries

for a romantic afternoon sipping delicious wines and savoring intimate conversation. 

There are also plenty of charming cafes and coffee shops to enjoy in downtown Hood River when you need a cozy moment to warm up in the afternoon. 

Hood River is also a great place to wine and dine with your sweetheart.  We listed some of the best

Hood River restaurants

here, but for lovely romantic evenings, we love

Stonehenge Gardens Wine Country Bistro

.

Clear winter nights are perfect for stargazing in the Columbia River Gorge, which is a truly magical experience to share with your loved one. One of our favorite places to do this is the

Goldendale Observatory State Park

. 

Enjoy a romantic soak in one of our generous jacuzzi tubs found in every one of our romantic cabins, featuring our truly delightful

Dead Sea bath salts

. 

Unwind in front of one of our cozy fireplaces, have some fun with a new board game or puzzle, or just delight in some quiet, uninterrupted time to get reacquainted. There are few better ways to enjoy romantic getaways in Washington State than getting "unplugged," and there's no better place to do that than our luxury cabins. 

Add even romance to your romantic getaways in Washington State by adding one of our

romantic packages

to your stay, featuring delightful additions like

in-cabin massages

, flowers, chocolate truffles, wine, and so much more. 
These romantic activities are just the beginning of what's waiting for you during your romantic getaways in Washington State. But first, you need to book your room at our #1-rated romantic couples retreat in the gorgeous Columbia Gorge.