The old historic Highway 30 is a gorgeous drive all on it's own. It's an absolute must-see while you are in the Columbia River Gorge.  What may be less known is that the highway is teeming with fabulous waterfalls all waiting for you to explore!  In fact, there are seven we want to tell you about here!
6 Fantastic Waterfalls Along the Old Historic Highway 30
Horsetail Falls
Horsetail Falls is named for its characteristic form and plunges 176 feet. Enjoy a short hike on Horsetail Falls Trail to Upper Horsetail Falls, also called Ponytail Falls, where the trail goes behind the base of the Falls. Horsetail Falls is a great spot just to stop and enjoy the beauty of the surrounding area.
Multnohmah Falls
Perhaps one to the most photographed waterfalls in all the Columbia River Gorge is Multnohmah Falls. And when you stand in its presence you'll know why.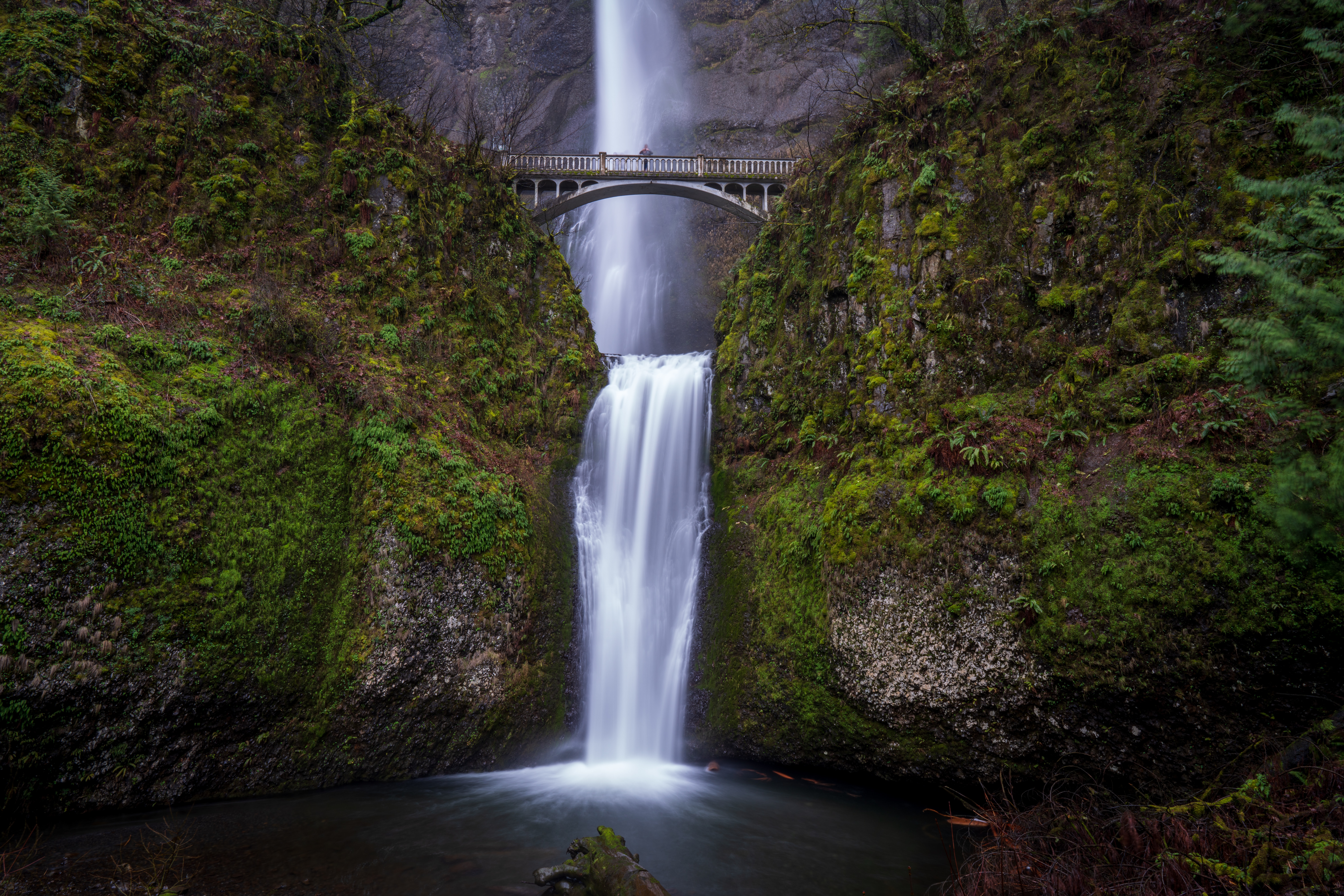 Multnohmah Falls is a 611-foot-tall roaring, awe-inspiring cascade of icy water, is both powerful and beautiful. Located just off the old historic Highway 30 it's a popular stop in the Gorge. you can even see it from the new highway.
For an awesome view, walk several hundred feet up the paved trail to reach Benson Bridge, which spans the falls at the first tier's misty base. Standing on the bridge you have a perfect view of the top tier's full 542-foot height and a knee-wobbling vantage point over the second tier's 69-foot drop!
Wahkeena Falls
Wahkeena Falls is a 242 foot waterfall that does not directly plunge to the ground. Wahkeena Falls, rather, has a more subtle cascading flow. These falls have been featured in numerous travel guides and in photography books. The Native American (reportedly Yakama) phrase means most beautiful. 
A short hike from the parking lot at the base leads to the stone bridge that crosses the main part of the falls. That trail continues on east to Multnomah Falls, the next falls to the east.
Bridal Veil Falls
Bridal Veil Falls is a short hike from a trailhead right off the Columbia River Highway to a majestic falls. The trail starts from the east end of the parking lot as a flat, paved trail. Soon, it changes to gravel and works its way down in one long switchback to Bridal Veil Creek. There's a staircase down the side of the valley and a beautiful wooden arch bridge over the creek. The trail then climbs to a wooden lookout with a view of Bridal Veil Falls.
Sheppard's Dell
Sheppard's Dell isn't as much a hike, as a leg stretcher, deserving mention for its amazing stonework – cut from the cliffs and protected by a stone wall created by the masons working on the nearby Columbia highway. Young Creek flows down a series of falls into a deep canyon. This beautiful spot, with its roaring waterfall cascading down steep cliffs far below is around 42′ tall at the upper falls and the lower tier is around 50′ tall.
Latourell Falls
Latourell Falls is usually the first waterfall seen along the Columbia Gorge Scenic Highway and leaves quite an impression! The falls plunge 224 feet over a massive wall of columnar basalt – some of the best formations in the Pacific Northwest – before cascading hastily towards the Columbia River.
Driving the Old Historic Highway 30
Meandering along the historic Highway 30 makes a perfect day's outing. In addition to waterfalls, there are many other attractions along the highway. You may also consider going mid-week as it's less populated. Other ideas and directions for driving, planning, exploring (and pretty much for seeing everything you could possibly want) can be found on Travel Oregon's website under, Driving the Historic Columbia River Highway.
Make a Stay of It
If you're interested in seeing some waterfalls along historic Highway 30, don't just make a day of it. Make a stay of it! Carson Ridge Luxury Cabins is located just across the river in Carson, Washington.
We're a perfect place to stay at the beginning of your trip or on your way back home!
Pick your private cabin and get ready to relax in luxury. Enjoy a regional wine on your secluded porch as you watch dusk settle in over the Gorge. Take a long sea salt bath in a jetted tub. Or, walk your furry friend around the property because we offer dog-friendly lodging options if you bring Barkley on your vacation. The choice is yours!
We look forward to hosting you in the Gorge!