Sometimes a gal just wants to have fun – and setting off on a Girlfriends Weekend in the Columbia River Gorge is just the way to do it. Relax and enjoy some leisurely downtime a good friend. Recharge and reconnect as you get out in nature, take in the sites or swap stories over amazing regional wines. If you're not sure what to do, we've got your itinerary for the best Girlfriend Getaway in Washington State right here.
Your Ultimate Guide to the Best Girlfriend Getaway in Washington State
Day 1 – Set Up Your Base Camp in the Gorge
Settle Into Your Cabin
Vacation begins as soon as you set foot on our property. We'll get you checked into your cabin in no time. Start your girlfriend getaway off right with a bottle of wine and a cheese plate waiting for you. We feature five local wineries, and we are more than happy to recommend a bottle for the weekend!
Head to Dinner
You must be hungry after traveling. Make your way to the Red Bluff Tap House less than 10 minutes down the road from Carson Ridge Luxury Cabins. This family-owned restaurant is the perfect way to start your girlfriend getaway in Washington State. The menu is best described as an elevated gastropub. Enjoy everything from an extensive selection of burgers to the chef's choice of nightly ravioli. Plus, they have a wide selection of local beverages to choose from. Have a drink before or after your meal and catch up with your friend. You're on vacation– you can take your time! Local tip: If the weather is nice, we highly recommend sitting outside on the patio. You'll be treated to views of the Columbia River Gorge.
Watch the Sun Set
If you have time after dinner, we can give you directions to the secret spot we like to watch the sun set over the Columbia River. Otherwise, some s'mores in front of our fire pit are a great way to end the night.
Day 2 – Set Off on a Full Day of Fun
Enjoy Breakfast
This Washington State Bed and Breakfast makes sure our guests start off the day right. Wake up in your private cabin to beautiful views of our property and enjoy a coffee on your private porch or head right to our common area for a three-course breakfast including dishes like lemon ricotta waffles, bagel sandwiches, and hearty egg entrees. It's the perfect way to prepare you for a day full of adventure.
Go for a Mid-Morning Hike
Now that you're prepared for the day ahead, it's time to start exploring. Start your day with a trip to the Rowena Crest Trail. This easy hike is the perfect way to get a taste of the Columbia River Gorge. In the spring, this is one of our favorite wildflower hikes to enjoy. The hilly loop is filled with colorful flowers that will take your breath away. In the summer, keep an eye out for all the birds of prey that make this area their home.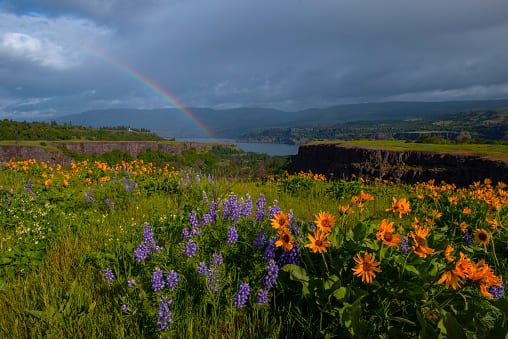 Time for Lunch
Hop in the car and drive about 15 minutes down the road to lunch at Rack & Cloth in Mosier, Oregon. Over the past few years, this local favorite has grown from a small cidery to a full restaurant. You can still get their delicious ciders that are made with fruits grown right on their farm. Their menu is very limited, but everything is always delicious. You'll usually find an array of pizzas, soups, salads, and some appetizers perfect for sharing. The ingredients are grown onsite, so the menu changes often. You never know what tasty treats you will find!
Explore Downtown Hood River
It wouldn't be the best girlfriend getaway without a little shopping! Hood River's charming downtown area is the perfect place to spend an afternoon. Here, you'll find an abundance of boutique shops, galleries, and restaurants. Not only is downtown Hood River an excellent place to get a souvenir or a gift for a loved one back home, there's also historic significance. Wander down Oak Street or Cascade Avenue to see some of the town's first buildings, and read their placards to learn about them.
Treat Yourself
You've been on your feet all day. It's time to relax! Head back to Carson Ridge Luxury Cabins for an evening of pampering. Indulge in a soak in your vanilla-lavender infused jetted tub to rejuvenate after a long day. Then, make sure you schedule an in-cabin massage. We have multiple massage options, and each treatment is catered to your individual needs. It's the perfect way to end your getaway.
If You're Hungry Again
If you have room for dinner, hop right across the street to Backwoods Brewing. Their convenient location and delicious pub fare make it one of our favorite spots to send guests. Get a flight to try their local beers while you look through their extensive menu. Their menu is entirely made from scratch and local ingredients are used when possible. Crowd favorites are the unique pizzas and sandwiches, and we can tell you our go-to menu items, too.
End the Night by the Fire
Head back to our garden patio to have some girlfriend time by the gas firepit. You'll love chatting and spending some quality time together before your getaway is over. Bring back a few beers from Backwoods Brewing to sip on and reminisce about your time at Carson Ridge Luxury Cabins.
Start Planning Today!
This all sounds pretty good, doesn't it? Check out our cabins and start seeing yourself having fun in the Gorge with good friends.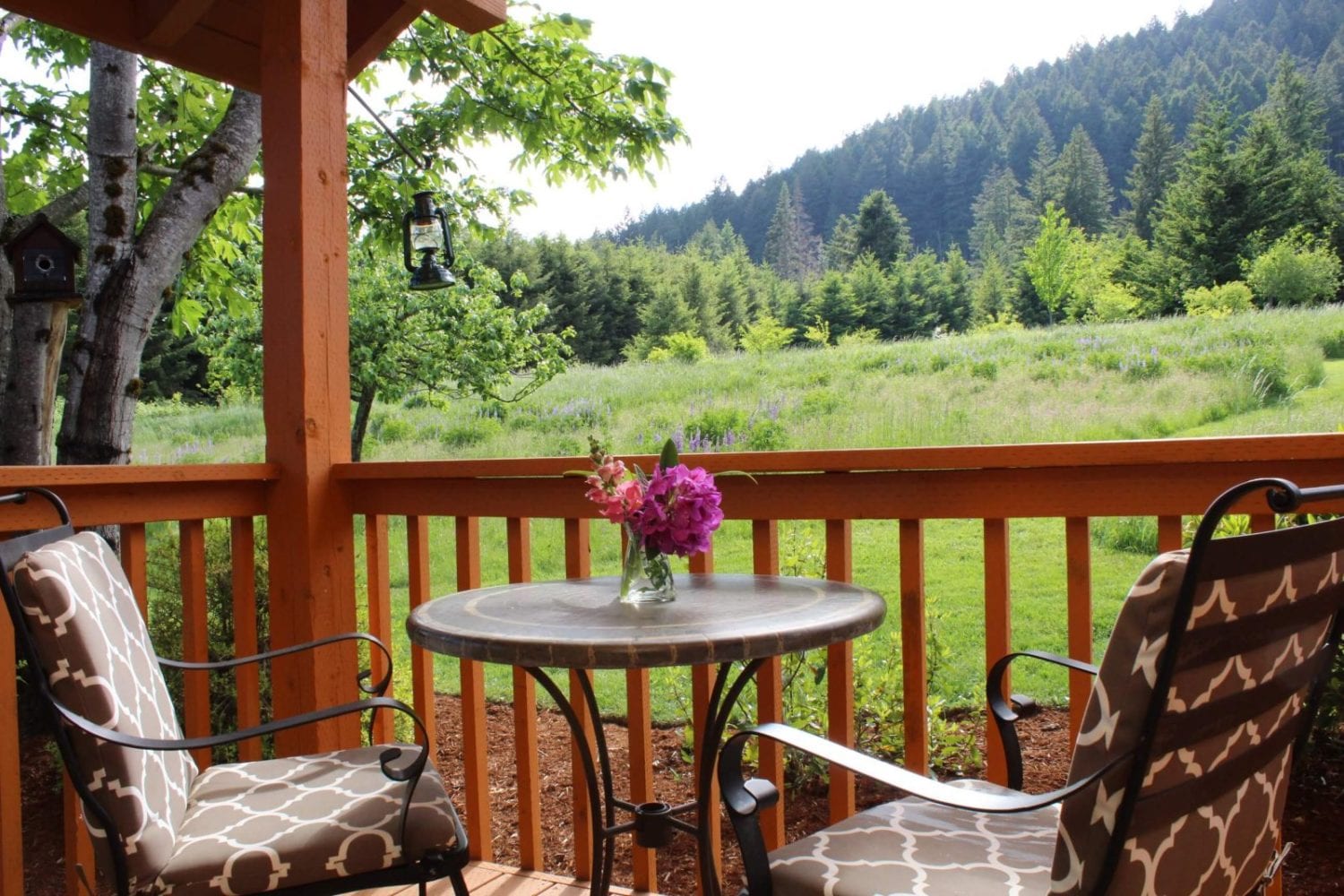 We offer lodging specials and dog-friendly cabin options to help you book the best getaway possible.
Get started today!