When you stay at Carson Ridge Luxury Cabins, you will find the perfect balance of adventure and relaxation. Hood River and its surrounding areas in Washington State create a natural playground filled with flowing rivers, incredible hiking trails, breathtaking scenery, and more. If you are looking for a day trip in the great outdoors, consider Gifford Pinchot National Forest. The area covers 1.32 million acres, giving you the opportunity to take a break from the outside world with days worth of exploration. Whether you seek solitude, activity, creative inspiration, wildlife, or scenic beauty, you can find it in this hidden corner of Washington State.
Mount St. Helens National Volcanic Monument
A volcanic eruption is a natural phenomenon that excites every adventurer. In Gifford Pinchot National Forest, there is opportunity to explore the site of a volcano that erupted less than 50 years ago. Mount St. Helens National Volcanic Monument is home to the volcano Mount St. Helens as well as miles of trails that wind through the unique landscape created by its eruption.
The "Winds of Change Trail" gives visitors a close-up look at new life after the destruction of the volcano with an easy hike through a paved path. Experience the awe of nature's cycle when you see the young greenery slowly making its way across land that had been turned to ash.  Another favorite is the "Hummocks Trail", a 2.4-mile loop that meanders through the steep-sided hills created by the volcanic landslide. Just remember, if you are planning on climbing above 4,800 feet you have to get a permit! Breathe in the fresh forest air as you enjoy views of the volcano, lakes, and new landscape created by the eruption.
Gifford Pinchot National Forest Waterfalls
Lewis River Falls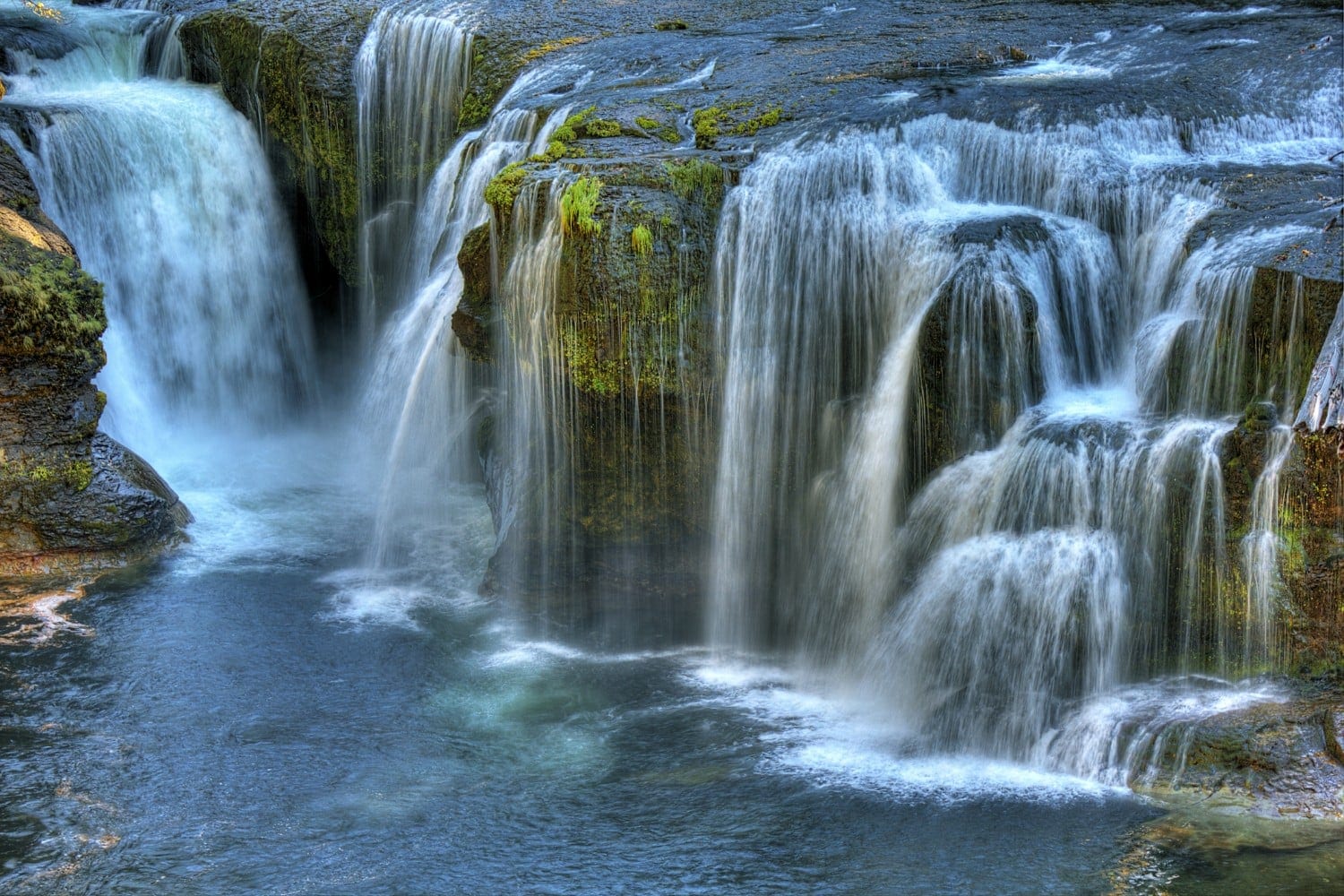 The Lewis River provides some of the best natural water attractions in Washington State. A 7-mile trail runs along the side of the river through towering pines and sprouting greenery. There are multiple waterfall stops along the trail, but the one most worth looking out for is the Lower Lewis River Falls. Its enchanting cascade of water measures over 200 feet across and drops 43 feet into a cool, clear pool beneath. Take a break during your hike to find solitude in the magical sound of running water as patches of sunlight peek through the trees.  
Panther Creek Falls
Panther Creek Falls is a mossy oasis surrounded by incredible flowing waterfalls. These falls drop for a total of 136 feet, making visitors pause in sheer wonder. A viewing platform has recently been constructed, but there is also a path that brings you down to the lower falls. This path can be slippery at times, but the view is well worth it. The size of the falls is awe-inspiring from this perspective, and the viewpoint is close enough to feel the soft moss under your feet and the mist on your face.
Ape Caves
Gifford Pinchot National Forest's Ape Caves provide one of the most interesting hikes you will ever experience. These 2 and a half mile long lava tubes are natural tunnels that were created when molten lava once flowed through thousands of years ago. Challenge yourself to take the upper tube hike rather than the lower. Although it is more difficult and includes feats like rock piles and a slippery lava wall, the cave changes shape, size, and geology frequently, making every step you take seem like a step into another world. Make sure to bring flashlights with extra batteries as well as warm clothes, since the underground tubes are cool and dark!
Takhlakh Lake
If you are looking for serenity, visit Takhlakh Lake. The crystal-clear water reflects the distant Mount Adams, creating a picturesque scene at almost all times of the day. Its waters are popular for fishing and swimming during the summer months; it also creates a picturesque backdrop for some gorgeous photos. Take the Takhlakh Loop Trail #134 to travel around the lake and view the towering Mount Adams from every direction. As the sun goes down, it reflects off the glacial mountain, painting the sky and lake alike with brilliant hues of red and orange.
After Your Gifford Pinchot National Forest Adventure, Retreat to Carson Ridge Luxury Cabins
No matter what part of the Gifford Pinchot National Forest you explored, you will want to come back and relax at Carson Ridge Luxury Cabins. Continue to enjoy the beautiful landscapes Washington has to offer when you unwind on your private porch with a glass of wine.
Consider our Mount St. Helens cabin to continue your volcano-inspired experience. This romantic cabin's handmade four poster king-size bed beckons you after your long day of exploring the great outdoors, and its hydrotherapy spa tub promises ultimate rejuvenation.
Or if want to bring Fido along for your adventures, check out our dog-friendly cabins. 
Whichever cabin you choose, you'll enjoy lavish comfort, luxury amenities, jetted tubs and more.
We look forward to seeing you and helping you enjoy your stay in the Gorge!