In recent years, elopements have become a leading choice for couples seeking to marry. If you've been considering an elopement in Washington State, there's no better destination to choose than our romantic cabins in Washington.
Not only is choosing an elopement in Washington State at a place like Carson Ridge Cabins considerably more affordable than a traditional large wedding, but it's also so much more intimate, personalized, and truly reflective of the couple on their special day.
We offer the perfect elopement package in Washington State for your affair, which includes everything you need for a successful day together. We take care of all the details for you, so you don't have to worry about anything but the love you share with your partner.
When the day is done, and you're ready to celebrate the beginnings of your new life together, our cozy and luxurious cabins offer the perfect place to snuggle up with your sweetheart. If you're interested in planning your elopement in Washington State, contact us today for more information.
Best Elopement in Washington State
Something about the stunning, rugged landscapes of the Columbia River Gorge sets the perfect stage for an elopement in Washington State. Perhaps it's because this exquisite area makes you feel as though you have the entire world to yourself, with so many areas of vast, untouched wilderness. Whatever you find appealing about an elopement in Washington State, we're thrilled you're here and considering our luxury cabins in Washington.
To ease the stress of planning an elopement in Washington State, we offer couples their choice of elopement or small wedding packages that feel anything but ordinary. Rather than focusing on the busy details of the day, such as which flowers to get and where, who to hire as your officiant, and more, we take care of every detail so you can focus on enjoying the moment and making lasting memories together.
We offer two choices for elopement packages in Washington State. The most basic of packages is simple and elegant and includes the following:
The officiant
A bouquet
A boutonniere
A champagne toast
A cake for two
Two witnesses to the marriage ceremony
If you're looking for a slightly more elevated elopement in Washington State, consider our luxurious cabin elopement package, which includes the following:
Two nights in our Mt. Hood Cabin
Ceremony on your captivating front porch, on the gorgeous tiered wedding lawns, or anywhere else on our property
A personalized bouquet and boutonniere
An officiant
Two witnesses to the marriage ceremony
A wedding cake for two
In-cabin breakfast service
60-minute in-cabin Couples Massage for two
A wedding keepsake from your friends at Carson Ridge Luxury Cabins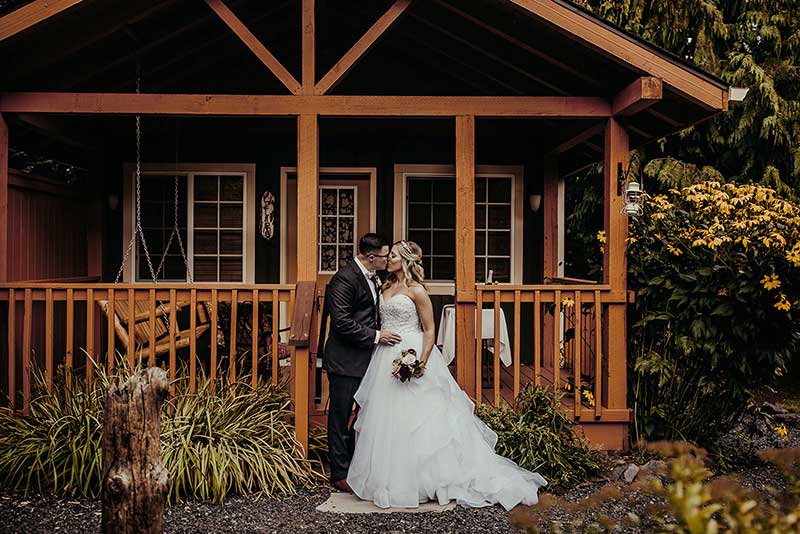 Get Romantic at our Cabins in Washington
Our cabins in Washington aren't only an excellent place for your elopement in Washington State. It's also a fantastic place to renew your vows, celebrate your honeymoon, and all other special occasions we encounter throughout our lives. We offer an excellent and restful place for making memories that will stay with you throughout your lives together.
If you do choose to stay with us for a few nights after our big day – and really, why would you not? – then we'd love to help you enjoy some of the best things to do nearby as you begin your lives together. Here are just a few of our favorite things to do in the Columbia River Gorge, all within an easy drive of our charming cabins.
Are you ready to start planning your elopement in Washington State? Contact us today so we can start planning your big day.