Make Your Vacation Planning Easy- Download Our Free Vacation Guide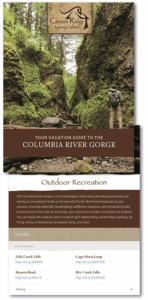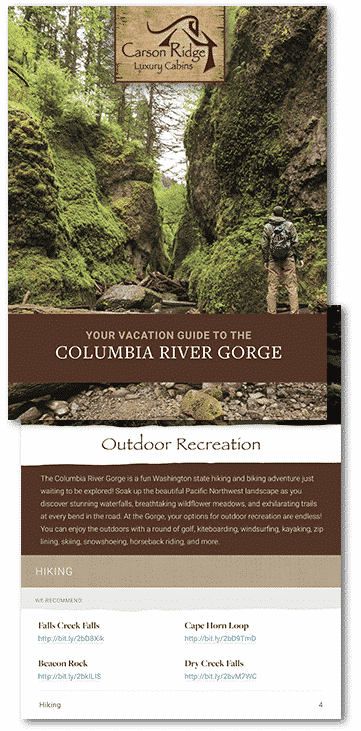 You'll Love the Columbia River Gorge
"The Gorge" is in a class of its own with its majestic landscape rich with peaceful meadows, rushing rivers, and hidden forests all scattered with apple orchards, vineyards, and blackberry thickets. At the center of this National Scenic Area, the Columbia River is framed by Pacific Northwest mountain views, fresh, crisp air, and a sense of untouched wilderness that just begs to be explored. No matter the season, this beautiful area does not disappoint. You know you have to see this breathtaking area with your own two eyes, but where do you even start? Our free Vacation Guide, of course!
Let Carson Ridge Make Your Vacation Planning Easy
Planning a vacation is not an easy task. It can take hours of painstaking research and preparation to find everything you would like to do in your area of choice. Carson Ridge Luxury Cabins wants to help make planning your Hood River getaway easy for you. We created our free Vacation Guide so you can see all that you can take advantage of while you are here. We've taken the time to give you recommendations on everything in the area from the best hiking trails for an adventure to the most relaxing spas. All you have to do is fill out the form below to get the guide!
There is a multitude of things to do and sights to see, and our free Vacation Guide to the Columbia River Gorge area outlines it all for you. When you fill out the form below, you'll see:
all the festivals and events you don't want to miss

outdoor activities

historic sites and museums

local wineries and breweries,

the best restaurant recommendations in town
Complete the form below and get your free Vacation Guide!