Explore the Gorge
When you dream of Washington State, what comes to mind? For us at Carson Ridge Luxury Cabins, we think of cascading waterfalls, soft moss-covered trees, the coziness of our cabins, and of course all the Skamania County things to do. Whether you are a wine lover, athlete, adventurer, or nature connoisseur, the Gorge offers the perfect activity for you to enjoy. No matter your interests, you can spend days indulging in all the things to do in the Columbia River Gorge!
Let Carson Ridge Luxury Cabins create your itinerary with the many Skamania County things to do. Planning a vacation can be hard, so let us make your job easier with our complimentary Vacation Guide. Unlock the ultimate exploration experience with a carefully chosen selection of culinary, cultural, and nature-bound adventures.
Skamania County Things to Do
Hit the Trails
Nothing brings you closer to our breathtaking landscape quite like hitting the trails. The natural beauty of the Columbia River Gorge beckons you to come explore. Soak in the beautiful Pacific Northwest landscape as you adventure through stunning waterfalls, colorful wildflower meadows, or exhilarating bike trails. If you're looking for hiking and biking, here are some of our favorite spots:
Visit the Breathtaking Waterfalls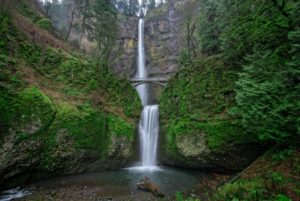 Some of the main attributes of the gorgeous landscape of the Columbia River Gorge are the breathtaking waterfalls, making it one of the most popular  Skamania County things to do. When you drive along the Historic Columbia River Highway, you are greeted at nearly every bend of the road with another awe-inspiring view of the 70 waterfalls found in the Columbia Gorge Scenic Area. Trek through towering trees and greenery to get to these cascading falls! Here are a few to get you started:
For the Wine Aficionados
When you visit our gorgeous community, sip, savor, and socialize at the assortment of stunning Washington wineries. America's Most Unique Wine Region, the Columbia Gorge Growing Region, is right at your fingertips when you stay at Carson Ridge Luxury Cabins. This area includes the fertile soils of both Washington and Oregon. From the marine influenced climate of Underwood Mountain to the arid dryland of the Eastern Gorge, our grapes and wines are a spectacular selection of sweet whites and luscious reds. Stop by the office and we will share Hood River and White Salmon wine tour maps, and our favorite Washington winery stories! Here are a few of our favorites to get you started:
Visit a Brewery
Washington and Oregon have become increasingly well-known for the microbreweries that can be found throughout the states. The craft beer here is truly unique, with one-of-a-kind notes of rich, fresh, and fruity flavors you just won't quite find anywhere else. Each of these breweries has a different style, both of beer and experience, much like wineries.
Water Sports for the Thrill-Seekers
If you're looking for thrilling Skamania County things to do, try out watersports! Whether water sports are your passion or you are just getting your feet wet for the first time, there's something for everyone. There are pros to teach you, an outfitter to gear you up, and memories to be made. Here are some of our favorite water sports you can try:
Fishing
The Columbia River Gorge provides an endless number of Washington State fishing opportunities for all levels of fishermen. Whether you're looking to cast your line from the shore or embark on a boat escapade, all of the  Skamania County things to do feature some prime opportunities for reeling in amazing catches. You will marvel at breathtaking canyon, cliff, and mountain views while you relax and get a catch!
Golf the Day Away
The natural oasis of the Columbia River Gorge has provided a stunning backdrop for the golf courses in the area. The lush, green courses, many with river and mountain views, beckon all skill levels to get out and enjoy a relaxing day outdoors. Indulge in our Golf, Spa & Cabin Package so a masseuse can come to the privacy of your cabin to bestow a well-deserved massage while your other half enjoys a round of golf at Skamania Lodge or Elk Ridge Golf Course.
The Fruit Loop
A unique and scenic Hood River County Fruit Loop winds through the valley's orchards, forests and farmlands. Sample delicious fruits and jams, visit Hood River wineries, and savor delicious baked goods. The Gorge boasts the title of the nation's largest pear-growing region and is one of the few places that offers the complete experience of growing, producing, and then enjoying fruit and wine!
Education During Vacation
You learn something new every day, so why not learn something while you are on vacation? Learn about the night sky when you visit one of the United State's largest telescopes at Goldendale Observatory State Park. Learn about the area's history at the Bonneville Dam, and then make your way to the Bonneville Dam Fish Hatchery. Here, you can get up close and personal with underwater wildlife and learn all about fish spawning. Education awaits!
Snow Sports
With all the snowfall Mt. Hood gets, there's plenty of opportunity for snowplay if you are here in the winter! Ski and snowboard down
the mountain or have a day of snowshoeing or hiking. Come stay in a winter wonderland, then cozy up in front of the fire in your private cabin. Here are some of our favorite snow sports:
Carson Ridge Luxury Cabins is Your Vacation Destination!
Now that you have discovered some of the most captivating  Skamania County things to do, explore the luxurious cabins Carson Ridge offers. Each of these private cabins offer deluxe amenities and gorgeous views of the surrounding landscape. Once you book your next getaway with us, immerse yourself in everything our community has to offer! Our complimentary Vacation Guide will give you even more about the area so you can start planning your stay.