The Owners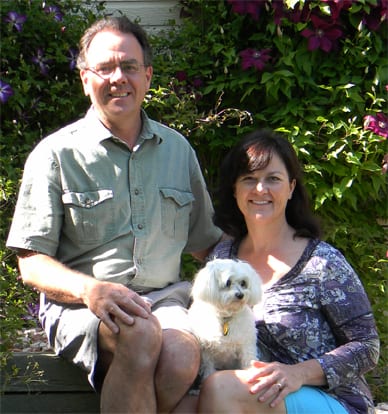 Richard Albert and Theresa Regnier became the owners of the Carson Ridge Luxury Cabins in March of 2015. Originally from Colorado they now enjoy the lush beauty of the Pacific Northwest. New to the hospitality industry, they are creating a calm and relaxing haven for their guests to enjoy. Their standard of luxury and comfort is reflected in each of the 10 cabins and throughout the beautifully planted grounds.
Their love of food and cooking inspires them to provide an array of wholesome and tasty breakfasts.
Richard's passion to provide excellent service with sincere care and Theresa's gift for entertaining, provides an atmosphere of genuine welcome to their guests. Her love of the outdoors is evident when helping guests plan their excursions.
Roxy, their Maltese, acts as their doorbell. She has a sweet temperament and is not shy about greeting guests with a joyous Woof! She enjoys making new friends with guest dogs and reminds T&R to set out the 'Fido goodie bucket' prior to check-in!