Once upon a time, many years ago, tucked away in the forest above the wedding lawns at Carson Ridge Luxury Cabins there was a bountiful apple orchard.  The orchard was owned by a sweet old man who was very proud of his apples.  For decades he harvested his apples and everyone in the Gorge marveled at just how juicy and sweet his apples were.
Then one fall the old man just stopped tending his apple orchard.  The orchard became overgrown with scotch broom and other tall plants
and shrubs.  The town's people noticed his apples were no longer being sold on the sidewalk Saturday Market in Stevenson and they were very sad.    When they ran into him at Big River Grill in Stevenson, serving delicious seafood, pasta, chicken, steaks and other goodies, and asked him why he stopped tending the orchard and harvesting the produce.  He simply said, "It is time to give back."  And then he finished his creamy, smoked salmon alfredo.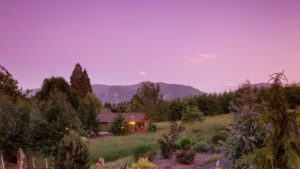 "Give back?" the town's people cried!  "But we want to be able to buy your succulent apples, along with jams, handmade crafts and other fruits and vegetables at the Saturday Market from 10 am to 2 pm in front of the court house on the main street through town," (really, they said that!)
As the days turned into months and the months turned into years, the orchard in fact, did begin to give back.  It gives the bears something tasty to munch on when they happen by the old grove.  They gorge on the apples and leave evidence lovingly referred to as "applesauce" on the trails carefully cut into the hillside right on the property of our Columbia River Gorge cabins.  Although we have yet to see a bear we know they are around.  So, watch where you step and for heaven's sake come get me if you see a bear!
The End