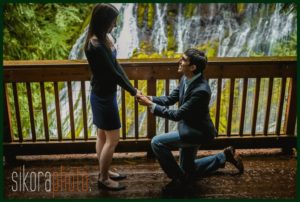 So you decided to pop the question during a romantic Washington State getaway!  Way to go!  Now what?  Well, we can help you with fabulous engagement ideas and handling all of the details.  From the perfect, out of the way waterfall where pine trees draped in moss tower over you to a quiet, fireside dinner for two at the best restaurant in the Gorge, to chilled champagne and roses when you return from dinner – we are experts at all of the little tiny details that will make your proposal perfect!
We know fabulous photographers who are just sly enough to appear to have been at the exact same spot you are proposing near our Carson, WA bed and breakfast at the perfect moment you drop to your knee catching every emotion on film.  We also know the perfect florist who can create a lovely bouquet for you to present to your true love.
We are shameless about making you look like the perfect catch!  There are no details too small or outrageous for a Carson Ridge Cabin engagement trip.  If you can dream it we can make it happen together!  All you have to do is give Staci the Innkeeper at our luxurious Columbia River Inn a call and she will work with you to make your engagement magical.