Escape the heat and come play in the Gorge or on the Hood River with a water sport excursion before summer comes to a close. Outdoorsmen and sports enthusiasts are drawn to Washington and Oregon for the excellent variety of activities available and we'd like to assume the pampering indoor activities at Carson Ridge to complement the time outdoors.
Summer is a desirable time to visit the Columbia River Gorge with its warmer weather but if you're looking for a refreshing way to cool off, you can't go wrong with the abundance of water sports including: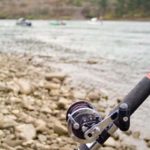 Fishing
Get your own catch of the day with a fishing trip in the Gorge. You'll be fishing salmon, sturgeon, small mouth, and steelhead on these rivers. Depending on the time of your visit, your fish can range in size from 12 pounds in the spring to almost 40 in the fall.
There are a few local companies offering half-day and full-day trips, ranging from four to eight hours, and they include KD Guide Service, Always Catchin' Fishing Charters, and Hood River Adventures.
Please note that a fishing license is required but can be purchased in Oregon or Washington for fishing the Gorge as long as it has the Columbia River endorsement.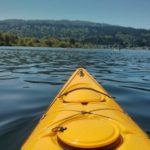 Kayaking
Whether you're hoping for a gentle river ride or ready to pump the adrenalin as you ride the waves, kayaking is a fantastic way to spend time out on the water.
Though we do love watching the sunset from our impeccable grounds, Gorge Paddling Center does offer a sunset kayaking tour in the summer and early fall and it can be quite the romantic adventure, especially when you pair it with a bottle of wine from Carson Ridge waiting in your room!
Paddle boarding
Stand Up Paddle boarding (SUP) is the perfect choice for visitors looking to get out on the water but be in control and get a good workout. SUP is very easy once you've gotten your balance on the board but Big Winds does offer SUP lessons and clinics if you prefer to start out learning the proper techniques. Gorge Paddling Center offers rentals and an intro to SUP lesson as well.
Sailing
With its consistent and reliable wind, the Hood River and Columbia River Gorge are superior areas for a sailing adventure. For an intimate outing, try a Hobie Cat sailing lesson or book a rental with Hood River Waterplay. Lessons are available from April to October and include learning the nomenclature, navigation, rigging and sailing, knots, and catching the wind.
For a different type of boating adventure, try a Columbia Gorge Sternwheeler Dining and Sightseeing Cruise from May to October. We highly recommend the Gorgeous Dinner Cruise but the Gorgeous Brunch Cruise is a fun alternative for our early risers.
Swimming
Desiring a cooling dip in the water? Take the 40-minute drive to Lewis and Clark State Recreation Site to enjoy some swimming or even hiking and fishing. You can even bring your four-legged friend to the park but please keep them leashed. Another area for swimming is the USDA's Columbia River Gorge National Scenic Area off the Dog Creek Falls Observation Site.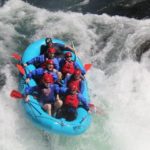 Whitewater rafting
Ride the rapids with a whitewater rafting adventure down the White Salmon River! If you're looking to combine thrills with the stunning scenery of the Gorge's canyon walls, this may be the ideal way to spend your day. There are sections of the river suitable for all skill levels and trips last around four hours. The season typically starts in spring, as early as April, and runs through September.
All Adventures Rafting, River Drifters, Wet Planet Whitewater, and Zoller's Outdoor Odysseys are a few of the whitewater rafting tour companies in the area that come highly recommended.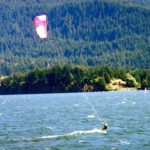 Windsurfing
Around Hood River is the joke that the one thing that's more abundant in the area than pears is the wind, and if you've wanted to try your hand at windsurfing there is no better place than the windsurfing capital of the world.
The Columbia Gorge Windsurfing Association is a great resource for learning more about windsurfing in the Gorge but if you're ready to get out on the river there are a few companies offering rentals and lessons to help you get your feet wet and trained by a pro. Big Winds offers windsurfing lessons and rentals as well as SUP rentals if you're planning multiple days on the river. Hood River Waterplay also offers first-rate lessons and an assortment of rentals spanning SUP, Jet Ski, catamarans, and kayaks. They're the only Gorge-based company that has its own private beach and is a certified U.S. Sailing School.
No matter what outdoor adventure suits your fancy or perhaps you prefer to stay cool indoors, late summer is an excellent time to visit the Columbia River Gorge and treat yourself to a stay in one of our luxurious cabins.