I don't name them – but I sure do love hiking them!  The latest being Falls Creek Falls.  An easy drive north of Carson Ridge Luxury Cabins on Wind River Road brings you face to face with your next magical discovery.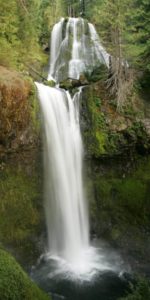 I ventured out mid-afternoon in search of this highly touted waterfall.  What makes a waterfall so wonderful?  Is it personal opinion?  Probably to a degree.  Is it the review it receives from your favorite local guide book?  Perhaps.  Is it just how hard you are going to breathe as you get there?  Maybe a little too true.  Falls Creek Falls did not disappoint.
First things first:  Water bottle?  Check!  Snack?  Check!  Pit stop?  OH NO!  Now what?  Well, Falls Creek Falls has got you covered there as well.  (You know it is going to be a sweet hike with beginnings like that!)  The trail itself is really quite pleasant to hike – it is adequately shaded, covered with a gorgeous canopy of trees and foliage.  The sun peeks through the branches giving play to the sunbeams that dance about as the breeze blows through.  The easy to walk trail makes the 2-mile trek fly by.  Completely engrossed in the sounds of birds chirping and Falls Creek babbling by it is easy to get lost in your own thoughts – even comfortable – on this pleasant trek.
Notable spots along the trail are two suspension bridges towards the last 2/3 of the hike.  Now my first inclination was to run like a wild banshee across the bridge screaming and flailing my arms to see just how much, if any, I could get the bridge to swing.  But alas, I trotted across the bridge with no incident.  Don't forget to pause and take in just how beautiful the area is as you cross and then cross again this special creek.
Finally the pinnacle – the actual waterfall!  As you round the last small crest you can hear the waterfall before you can see it.  Several small streams of bubbly water rush over a variety of rocks high above causing you to crane your neck backwards to see.  Once all of the streams meet it is a spectacular race over the edge of this incredible Columbia River Gorge waterfall.  To my utter delight the spray exits in every direction imaginable.   Couple that with the late afternoon sun at just the perfect angle and I was treated to a spray of rainbows shooting off in a variety of directions as well.
After taking a slew of pictures, doing my best to capture the beauty of the waterfall and falling terribly short, we began the trek back.  Filled with awe and excitement of what we had just experienced the jaunt back to went by quickly.  That is until the very end of the trail – where we paused at a sign we had not seen on the way in announcing 1.8 miles to the falls.  My heart sunk.  Nothing looked familiar.  How could we have possibly taken the wrong path? There was only one path to take.  Do we head back to the falls while there is still plenty of light so we can retrace our footsteps again?  Or do we continue on hoping for the best?  Luckily cooler heads prevailed and we were literally just a few yards to the still clean and welcome sight of the almighty pit stop.
So, tie up your shoes and get out there and hike to Falls Creek Falls.  And don't mind the things that don't look familiar as you are trekking back – nothing in life looks the same coming as going anyway!