When spending time at our Columbia River Gorge cabins there are a few places that make the list of things you have to do or see.  Beacon Rock is on that list.  Not because it is secluded, romantic, a mysterious place, unknown or even obscure.  No, Beacon Rock is the upside-down, blown right out of the mouth of a volcano rock to end all other rocks!  It is just something you have to do!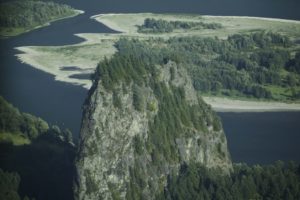 So strap on your sturdy shoes and head west on Highway 14 a few miles past Bridge of the Gods.  Be sure and pack some water to keep your smile and vocal cords well hydrated for all of the greeting of fellow hikers,  A camera is a good idea as well so you can snap wonderful views of the Columbia River.  Do not let the number of other people around you deter you!  It is fun to see the excitement of others making the journey – not to mention the variety of ages you will encounter.  As I huffed and puffed my way up (I am not in tip top shape) I passed a woman who was making her way down and she had to be at least 85 – now there is some motivation!  And how many people can say they hiked 1.8 miles round trip on a rock that was formerly the core of a volcano? Like I said, you just have to do it!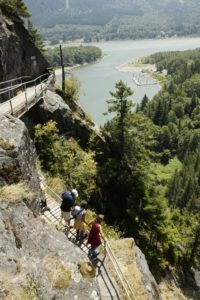 After you stroll through the small forest-like entrance you will be met by mostly paved trails (in some fashion) complete with guardrails.  Safety first!  Although the top of Beacon Rock tends to be "the spot" hikers clamor for, I preferred the views I was able to obtain as I walked up with rock.  Some might say I liked the views on the way up because I am out of shape and they gave me pause to catch my breath – and who am I to argue – but seriously, part of the fun of climbing Beacon Rock is to pick a spot on the Columbia River and watch it become smaller and tinier as you ascend the rock.
I hiked Beacon Rock on a late afternoon in June and found the weather to be quite agreeable.  It was a little breezy in spots but the breeze was a welcome refresher as I began to glisten.  The top was a bit of a surprise to me – I think I expected a bell to ring or perhaps a vast, flat platform of some sort with which I could announce to all that I, indeed, made it to the top!  In reality, there are trees providing lovely shade and craggy rocks to sit and ponder your eminent decent.  So get out there and tackle Beacon Rock!  And if you find a bell please ring it for me.  In the meantime I will be over here getting ready for my next adventurous hike!