Ah yes – springtime in the gorge!  Many of you may are thinking about the gorgeous wild flowers and their annual, colorful dance while others of you may long for the mild scratch of brush on your calves as you blaze your first trail of the season.  I, however, am turning my attention to the Columbia Gorge Winegrowers fabulous Passport Weekend, April 12-14.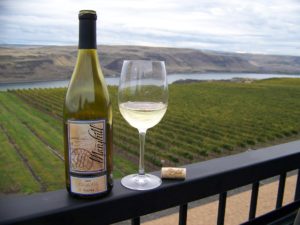 Nearly 30 local wineries will throw open their doors to welcome you into their barns, cellars, tasting rooms and hearts to share their passion of Columbia Gorge wine and wine making.  Corks will be pulled, caps will be loosened, glasses will be polished and the wines will flow.  Tasty cheeses will be carved, crisp, flavorful crackers will tumble into brightly colored baskets, and appetizers with flair will be carefully crafted for your snacking pleasure.  Nowhere else will you find 40 miles of such gorgeous views, lively music and delicious wines carefully pulled together just for the celebration of the craft!
So come to wander through the countryside from winery to winery or stroll through the quaint streets and take in the charm of Hood River.  The entire weekend is devoted to the celebration so you actually have time to do both!  And it just so happens that our Hood River Inn is the perfect oasis for your trip.  We will pamper you with luxurious accommodations, spoil you with delicious breakfasts, guide you to the very best restaurants and send you on your way each day armed with a full belly and a handy map to partake in the Columbia Gorge Wine Weekend.
Stay at Carson Ridge Cabins two consecutive nights and we will provide you with two complimentary Passports for the Winegrowers Weekend.  The weather will be glorious no matter what it decides to do.  So call your spouse, significant other or that cutie you have been flirting with and high-tail it to the Gorge!  Throw in your rain slicker just in case and make plans now to enjoy the weekend.  Space is limited here at the Cabins, so reserve your romantic cabin before they are all gone. I would just hate to turn you away!